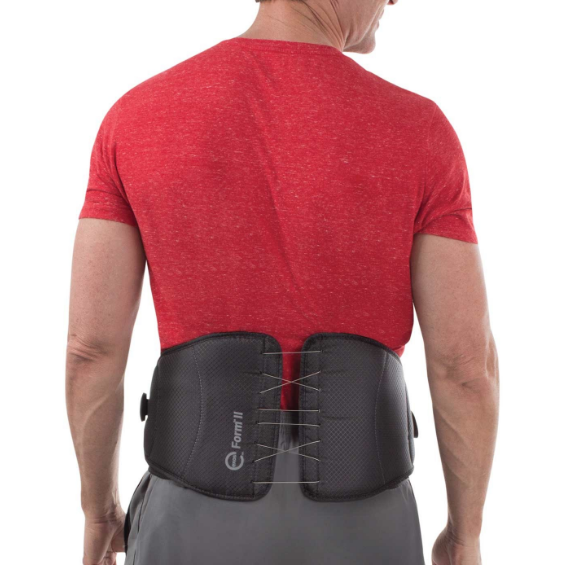 Every day, millions of people around the world find themselves dealing with lower back pain. It causes constant discomfort, and turns even simple tasks into a painful struggle. It can also affect your mental health, as it's hard to find joy in life when you're constantly in pain. 
Regardless of what's causing your back pain, the priority is to find relief that can help you navigate your day without constant pain. Many people turn to a back brace, which can make a huge difference to your daily comfort levels and quality of life. 
But, with so many options to choose from, what's the best back brace for lower back pain? In this guide, we'll help you understand the world of back braces, giving you the information you need to make the best decision for your specific needs. 
Join us as we explore the best lower back braces and show you where to find a quality back brace that can provide you with essential support, relief, and a pathway to a pain-free life.
A Brief Overview of Lower Back Pain and Back Braces
Lower back pain, often described as the "silent epidemic" of the modern world, affects people of all ages and backgrounds. Whether you're an athlete, an office worker, a parent, or a retiree, the discomfort and limitations that come with lower back pain can be debilitating. 
Before we discuss the best lower back brace, let's take a look at what causes lower back pain, and how a back brace can alleviate pain and provide much-needed support. 
Causes of Lower Back Pain
Lower back pain can have many different causes, including:
Muscle strain or overexertion
Poor lifting technique or repetitive movements 
Poor posture while sitting or standing for extended periods
Accidents, falls, or sports-related injuries
Herniated discs
Degenerative conditions like osteoarthritis 
Compression or irritation of the sciatic nerve (sciatica) 
Underlying health issues like kidney stones, infections, and inflammatory diseases
But can the best lower back brace actually provide relief from back pain? Let's explore that next.
Can the Best Lower Back Brace Help?
Back braces, designed to provide support and stability to the lower back, are a valuable tool in managing lower back pain. When chosen and used correctly, they can help a majority of patients manage their back pain. So, how does a back brace work for lower back pain? Let's take a look.
Some lower back pain is a result of poor posture. A quality lower back brace can help by promoting a more natural and aligned posture, reducing the stress on the lower back muscles. If you're recovering from an injury or surgery, a back brace can help prevent further damage to the lower back.
Back braces can also provide support to the lower back muscles, reducing the risk of strain during activities that may exacerbate pain. By stabilizing the lower back and providing compression, back braces can alleviate pain caused by herniated discs and muscle strains.
Does a back brace help sciatica? Yes - a back brace can provide compression and support, which alleviates pain, prevents further injury, and accelerates your healing. 
What Separates the Best Lower Back Brace From the Rest?
Not all back braces are created equal. So, what separates the best back brace for lower back pain from the rest? Let's explore the factors you should consider when looking for the best lumbar back brace. 
Breathability and Comfort
Comfort is paramount when it comes to wearing a lower back brace regularly. The best back braces are designed with breathable materials that ensure you remain comfortable, even if you're wearing your brace for long periods of time. 
How long should you wear a back brace for lower back pain? It will depend on your specific condition and the recommendations provided by your doctor or orthopedic specialist, but choosing a comfortable back brace makes it much easier to incorporate it into your daily routine. 
Durability and Lifespan
A high-quality back brace should be built to last. The best options are constructed with durable materials and craftsmanship, ensuring that they withstand daily wear and tear. A longer lifespan not only saves you money in the long run but also ensures continued support for your lower back.
Alignment and Support Features
The main purpose of a lower back brace is to provide support and promote proper spinal alignment. A back brace needs to be carefully designed with ergonomic features like reinforced lumbar panels and adjustable compression straps that make this possible. 
Ease of Adjustability and Use
A well-designed lower back brace should be easy to adjust to your specific body shape and needs. Look for braces with adjustable straps or fastenings to achieve a secure and comfortable fit. An easily adjustable brace is more likely to be worn consistently, maximizing its benefits.
Recognitions and Certifications
Reputable back braces often come with certifications or endorsements from healthcare professionals or medical organizations. These recognitions can provide peace of mind regarding the brace's effectiveness and safety.
Return Policy, Warranty, Customer Support, and More
There's nothing more important than investing in your health. When making a purchase as crucial as a back brace, which can have a significant impact on your quality of life, it's essential to make sure you've got the support you need to feel confident about your decision.
The best lower back braces should always come with comprehensive customer support, including a reasonable return policy and warranty. This gives you a safety net in case the brace doesn't meet your expectations or needs.
What is the Best Back Brace For Lower Back Pain?
So, with those factors in mind, what's the best brace for lower back pain? Let's take a look at some of the best lumbar back braces, and how they can help you find much-needed relief from the struggles of lower back pain. 
Why a Donjoy Back Brace is the Best Lumbar Back Brace Available
If you're new to back braces and orthopedic devices, there's one name you need to know: Donjoy. A Donjoy Back Brace is the gold standard in the orthopedic industry, respected and recommended by orthopedic specialists and physical therapists around the country. 
So, what makes Donjoy braces the best back brace for lower back pain? Firstly, Donjoy braces are designed with innovative technology and ergonomic features to combat the many complexities of spinal issues. 
With ComfortCORE Foam that uniquely contours to your body, Donjoy back braces adjust instantly to movements to deliver superior comfort and support. With such a diverse range, it's easy to find a Donjoy back brace that's designed with your exact needs in mind. 
When you invest in a Donjoy back brace, you're truly investing in your future health and well-being, and giving your body the best possible chance to heal, recover, and get you back on your feet to enjoy a revitalized, pain-free life. 
So, which Donjoy brace is the best lumbar back brace? Let's explore the most popular Donjoy back braces and who they're designed for. 
The Donjoy Exos FORM™ II 626
The Donjoy Exos FORM™ II 626 is a back brace designed specifically with lower back pain in mind. It provides unparalleled sagittal control and support, and is designed to contour with your body for maximum comfort, even during extended wear. 
This brace is durable, comfortable, and features an advanced closure system to promote good posture and reshape form, fit, and function. With a slim, low-profile design, it provides support without restricting your movement or adding to your discomfort. 
The Donjoy Exos FORM™ II 627
If you're looking for a brace that can help with mild to acute lower back pain, the Donjoy Exos FORM™ II 627 is a great choice. This brace is also ideal for post-op patients on the road to recovery from back surgery. 
This lumbar brace provides exceptional support from L-1 to L-5, with an innovative closure system and belt to accommodate different patient body structures. It's easy to find the perfect fit with this well-designed brace. 
The Donjoy Exos FORM™ II 631
The Donjoy Exos FORM™ II 631 provides a higher degree of spinal support and relief from acute lower back pain and support from T9-S1. Made from materials designed to conform to different body contours, you won't find a better-fitting back brace anywhere. 
The Donjoy Exos FORM™ II 637
For more severe back issues or injuries, the DonjoyExos FORM™ II 637 provides a higher degree of spinal support. Whether you're experiencing acute lower back pain from a herniated disc, or require post-op support, this brace has you covered. 
The Exos FORM™ II 637 provides superior sagittal and coronal control and support from T9-S1. It also provides both independent superior and inferior compression delivered through an innovative closure system to further aid your recovery.
The Donjoy Back Brace II TLSO
Looking for a high-quality back brace that will stabilize your spine so you can heal properly? The DonJoy Back Brace II TLSO is designed to accommodate and restrict the thoracic, lumbar, and sacral regions of the spine, getting you back to your best self as quickly and safely as possible.
This lightweight brace uses advanced ergonomic technology to provide unparalleled support without sacrificing comfort, allowing you to wear this brace for extended periods of time as your body heals. 
The Donjoy Exos® FORM™ II 621
The Donjoy Exos® FORM™ II 621 brace is ideal for lower back pain and strains. It helps to improve posture and relieve pain resulting from standing or sitting for extended periods of time while supporting the hips.
This brace compresses the sacroiliac joints while supporting the back, hip, and legs. Its wraparound design is simple to adjust for a comfortable fit and controlled pressure. The pulley system is easy to use, enabling you to adjust the tension exactly as you need. 
The DonJoy LO Low Profile Back Brace
As the name suggests, this low-profile back brace is designed to provide support and compression without sacrificing comfort. The DonJoy Low Profile brace offers rigid anterior and posterior compression from L1 to L5, to reinforce the lumbar region of the spine.
This brace's proprietary mechanical pulley system closures allow for smooth and uniform compression. Easy-to-use pull handles make it easy to quickly adjust the brace to meet your desired level of comfort. 
Which of These is Right For You?
With so many Donjoy back braces to choose from, each carefully designed for patients with specific lower back needs, how do you find the brace that's right for you? If you're not sure where to start, consult your doctor or orthopedic specialist to hear their recommendations. 
You can also chat with the experts at Ortho Bracing. We stock all of the above Donjoy braces and are extremely familiar with the ins and outs of each one. We're available 24/7 and can help you find the best brace for lower back pain - take advantage of our decades of experience!
Benefits of Shopping at Ortho Bracing for the Best Brace for Lower Back Pain
At Ortho Bracing, we not only carry all the best Donjoy abdominal binders or back braces in a variety of sizes and styles, but we also offer better prices than you'll find anywhere else for these premium products. How much is a back brace? Visit our store to see the incredible deals we're offering!
With next-day shipping and our incredible customer support, there's never been an easier, safer, more reassuring way to find and order your new back brace. Whether you know exactly what you're looking for or need some guidance, we're here to aid your recovery journey.
Plus, as orthopedic experts, we can also help you find the best cold therapy machine, give you tips to reduce post-surgery swelling, introduce you to electrotherapy for back pain, or even explain how to choose a knee brace. We mean it when we say we're here for you! 
Tips on Making the Most of Your New Brace
Once you've found the best brace for lower back pain, it's essential to learn how to wear a back brace properly to help your body heal effectively and reduce your risk of further damage or injury. 
When you first start wearing your back brace, allow your body time to adapt. Begin with short durations and gradually increase the amount of time you wear it. This helps your muscles and spine adjust to the additional support.
Also, to ensure the longevity of your back brace, follow the care instructions provided by the manufacturer. This may include regular cleaning and maintenance to keep the brace in good condition.
More Tips For Relief Beyond Using the Best Lower Back Brace
While a high-quality lower back brace can provide valuable support and relief, a comprehensive approach to managing lower back pain often involves more than just wearing a brace. Here's what else you can do to help your body heal quickly, safely, and naturally. 
Exercise Regimens and Physical Therapy
Incorporating targeted exercises into your routine can help strengthen the muscles supporting your lower back. A well-rounded exercise program might include stretching to improve flexibility, core-strengthening exercises, and activities that promote good posture. 
Physical therapy is a valuable resource for individuals with chronic lower back pain. A trained physical therapist can create a customized treatment plan that includes exercises, manual therapy, and education on proper body mechanics. 
Alternative Therapies and Remedies
Chiropractic treatment can be effective in addressing lower back pain. Chiropractors use manual manipulation to realign the spine and relieve pain. If you choose this therapy, ensure you consult a licensed and reputable chiropractor.
Acupuncture is an ancient practice that involves the insertion of thin needles into specific points on the body. Many people have found relief from lower back pain through acupuncture sessions, as it can promote relaxation and reduce pain.
Lifestyle Adjustments for a Healthier Back
There are also some lifestyle adjustments you can make to promote good back health, including: 
Maintaining a healthy weight through a balanced diet and regular exercise
Creating an ergonomic work environment 
Staying active with activities like walking, swimming, or cycling 
Using proper lifting techniques by bending your knees
Managing stress with mindfulness, yoga, and deep breathing exercises
Ensuring you get enough restorative sleep with a quality mattress and pillow
Combined with the best back brace, these techniques can make a real difference to your pain levels, mobility, and greater quality of life. 
Parting Thoughts on the Best Back Brace For Lower Back Pain
Finding the best brace for lower back pain takes some time and effort, but it's worth it when you discover the life-changing relief that a high-quality back brace can deliver. At Ortho Bracing, you can find the best selection of top-rated Donjoy back braces, at simply unbeatable prices. 
While you're here, don't forget to check out our other premium Donjoy products and Breg products, as well as our polar ice machines, shoulder braces, ice machines for shoulders, and shoulder compression sleeves. We have everything you need for orthopedic healing and recovery.
Don't let back pain dictate your happiness - find relief and comfort with a quality back brace from Ortho Bracing!